Some of you have used the "References" tool in Word to add a bibliography to your blogs and discussion posts for Blackboard, and that is an excellent tool.  When you try to paste your work into something else, however, your References (bibliography) gets cut off.
Word is a great tool for creating documents, but it is a terrible tool for sharing them.  You will encounter many different electronic platforms that are Web (HTML) based, and your documents must look good on those these days.  Blackboard is merely one example of this.  To get your references to copy when you paste a document from Word into Blackboard (or WordPress, or anything else on the Web), you simply need to transform your Word document References into "static text."  The static text is just regular text, and you can cut and past that with no problem.
All you need to do is highlight the Reference block of fields, and click on the "more" icon.  Variousu options are available, but it is the "convert bibliography to static text" at the bottom we are interested in.  Note that this can't really be undone, so wait until you are sure everything is perfect and all of your references have been included before you do this.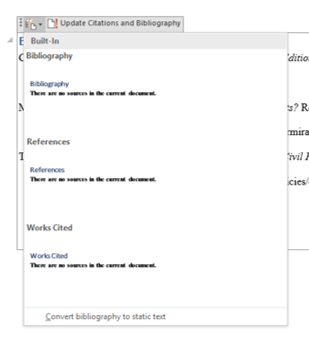 Once your references have been converted, you can then "select all" and copy the document to your clipboard, and then paste it into Blackboard.  You may need to clean up your paragraph spacing, and such.   Then you are ready to submit your document.
---
[amazon_link asins='B07G2818VP,B07G2QMW42,1634904435,1983091049′ template='ProductCarousel' store='thereferencepage' marketplace='US' link_id='153994ad-95e3-11e8-9d1f-8fe1604a63c7′]